+ SMARTFOCUS - Software for programmed acquisition of microscope images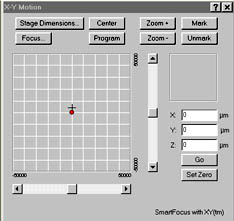 SmartFocus precisely controls movement of motorized microscope stages on all three axes, or on the Z-axis only. With SmartFocus you can:
Set stage XY and Z positions by:
Using a mouse or other pointing device.
Inputting selected coordinates, or
Running prescripted scenarios
Script complex, multiple-step image acquisition scenarios using easy to learn, teach mode methods. Scenarios can include:
Multiple XY coordinates
Multiple sequential images along Z axis at each XY point
Optional time delays
Complete annotation of each image series
Calibrate microscope system:
In XY plane and in Z.
Calibration data attached to each image.
For more information on SmartFocus, click here.