SmartFocus adds precise, computerized control functions in all three axes or in the Z-axis only to motorized microscope stages. The principal features of SmartFocus are shown here:
SmartFocus demonstration software is included in and can be accessed from the PROBE 3D demonstration software. (Note: Because stage control and image acquisition functions require an appropriate motorized stage and frame grabber, these functions are simulated in the demonstration software.)
Step, continuous and programmable adjustment of Z is available in increments locked to the working distance of the selected Objective. Selected focus points can be directly entered into Multi-Sequence scripts.

Note access to Z-axis calibration system
XY stage motion can be controlled in steps or continuous motion, under direct control or pre-programmed, with adjustable levels of motion rate and precision. Once an image is found in the microscope, its XY coordinates are recorded automatically for later recovery.

Program automatically measures full XY stage travel and calculates center of stage. Alternative Zero coordinates can be set.

Multiple slice imaging scripting (see below) is accessed directly.

The Multi-Sequence Edit dialog box provides simple scripting of a single line of an acquisition scenario. Any number of scenario lines can be "daisy chained" to create complex scenarios covering multiple XY points, with multiple focused image slices at each point.
Notes can be added as desired. These notes, together with calibration and other acquisition data, are attached to the resulting image files.
Calibration of the microscope system using standard images with known dimensions is straight forward.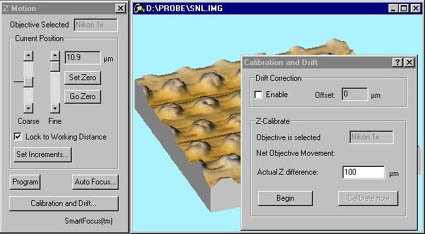 Calibration data is associated with the Objective used and is attached to each subsequent image taken using that Objective.
For a full demonstration of SmartFocus, click here.